The NBKA Annual & Special General Meetings
Immediately before the AGM there will be a Special General Meeting to consider an addition to the constitution to add an Institution or Corporate membership class to enable such bodies to be members of NBKA but with no voting rights.
Two amendments to the constitution change the offices of Chairman and Vice Chairman to Chair and Vice Chair respectively.
Papers relating to the SGM and AGM are available in the Members Area
Followed by a presentation by Pam Hunter
"Oilseed rape – a blessing or a curse"

Light refreshments will be provided.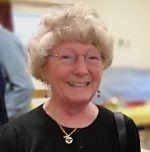 Pam Hunter, Chair of the BBKA Research Committee


The Association Library will be on display with books available to be borrowed by members.